We used to have preschoolers in this building 🙂 Even back then, it had an absolutely fantastic 650 m2 garden which seems as not even located in Prague – thanks to its location in the courtyard, it is always quiet and safe. We gradually improved it with new plants, swings and rest areas until it reached the beauty you can see in the pictures.
Gradually, we grew out of its capacity, so we moved the preschool children to the other building and left the whole space for the nursery. These premises are now occupied by a group of at most 20 babies under the age of two.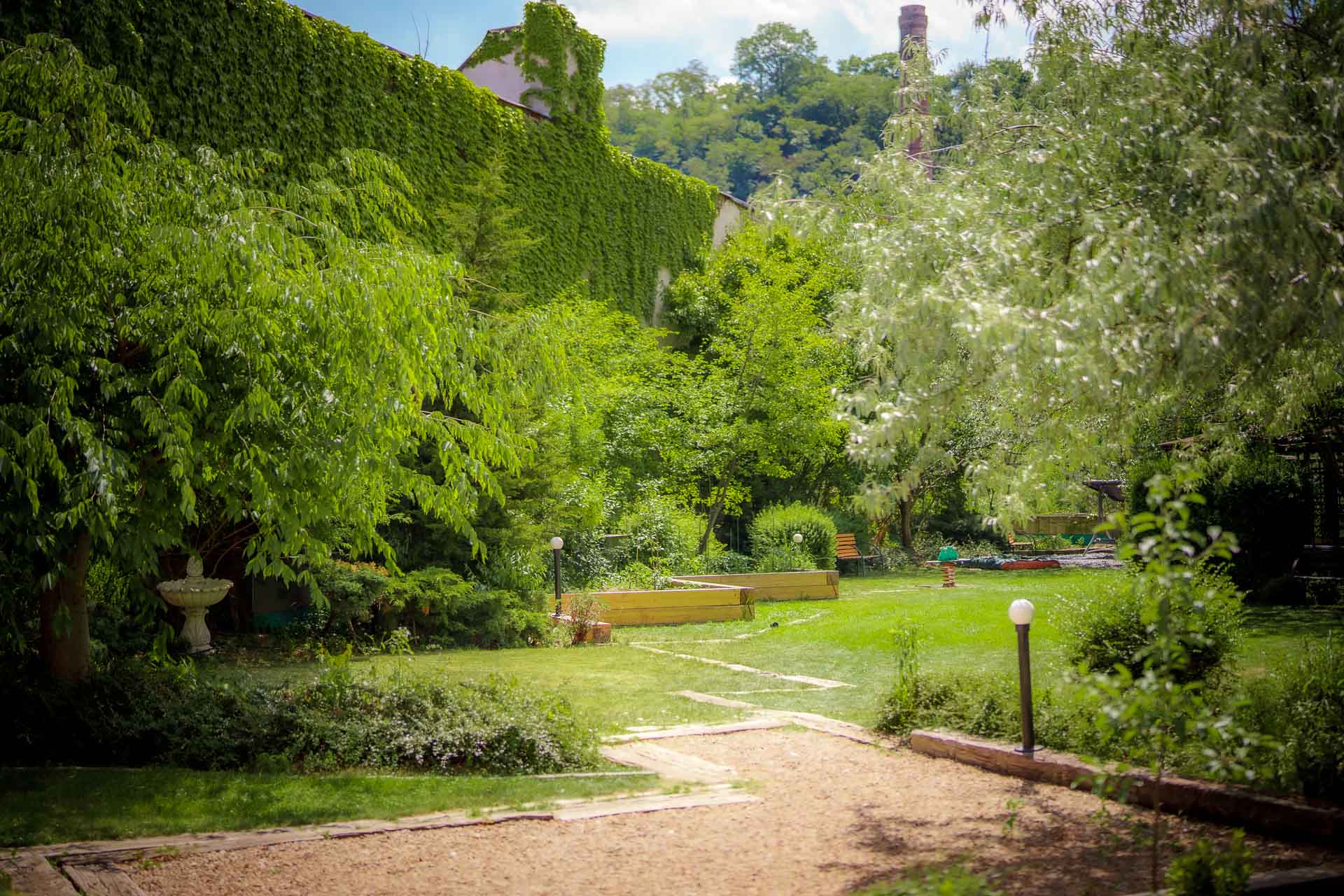 How do we take care of the babies?
What you won't see in the pictures is how our nursery works. We accept babies from the age of 9 months, when they are not yet able to communicate verbally, and this is often their first experience of being completely without parents. So many new people!
Our task is to provide them with a sense of security, acceptance and love – as if they were at home. Therefore, there are 4 aunts at and for no more than 20 babies, which is an above-standard ratio, providing the babies with a large portion of attention.
Aunts, i.e. experienced nannies specialized in working with young children lead the babies in their first steps towards independence and proper socialization. It is quite common for babies to experience longing or new, unrecognized emotions during the day, so they need to soothe them and patiently explain how things work. We are here for them and we give the maximum possible support.
After all, there is no other way – babies at this age are amazingly cute and you simply want to help them ♥
At the end of each day, the parent receives a written report on how the small client's day in Malvína went, what he has learned and what behaviour we observed in him. And if we see any difficulties in cognitive functions, motor skills or notice abnormal behaviour, we consult with you and a special teacher.
Personality is shaped by the environment
Our personality is influenced by the family background, friends and the environment where we spend time. That is why we pay a lot of attention to the quality of interiors in Malvína and work on them with architects.
We reconstructed the nursery in 2020 in cooperation with the No Architects studio. We began to appear in design and architecture magazines in our country and abroad almost as soon as we reopened. Most recently, we were nominated for the Grand Prix of Architects – National Architecture Prize 2021.
The interiors not only look great in the photos, they are also full of ingenious details. Almost every piece of furniture serves as a place to play. You will find plenty of areas to romp with friends and many corners to relax.
The smooth floor is great for driving toy cars and it's not slippery. The prevailing material is wood, which radiates pleasant warmth and is safe when trying the first steps. Harmonious, calm colours complete the space while not being exceedingly flashy for the babies.
In combination with the garden, the Malvína nursery is the best place for children to grow, just 10 minutes from Wenceslas Square.♥